We, the New Bridge Services, Australia are pioneer in temporary fencing sales. We always successfully provide our cliental with realistic / competitive prices and very reliable quality.
It is our pride to be the largest manufacturers of temporary fencing in Australia with the capability of manufacturing all your fencing requirements as per your specifications at a very competitive price.
Temporary Fencing Panels
A Complete HDG (hot dipped galvanized) Temporary Fencing System is Certified to AS4687-2007.
Our 2300 wide x 2000 high Temporary Fencing Panels are designed and Engineered for Construction/temporary protecting Sites/. With a 25nb pipe / wall thickness of 2.5mm and an anti climb Welded mesh infill of 38mmx150mm these Temporary fence panel last for years in a demanding industry.
Our Temporary fencing System comprises of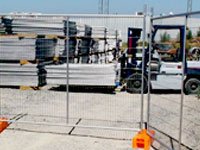 Temporary fence panels
Accessories
Plastic Concrete concert filled Fence Feet,
Clamps
Stabilizers / Stabilizer supports
Which has gone through rigid testing to meet the AS4687/2007
Temporary Fence Specifications
Panel size
Pipe specification
Welded mesh infill
Weight
HDG Specifications
2300mm(L) x 2000mm(H)
25NBx2.5mm thick.
4mm horizontal,
x3.15mm vertical
38mm wide x150mm high Anti climb welded infill mesh.
28kgs
Pipe: 42-48microns
Wire: 28 microns
Clamps: 42microns
Stabilizers/supports:42microns
Temporary fence Plastic feet
Temporary fencing Plastic Block has a rugged outdoor life of 10 times more than the normal conventional concrete blocks.
Aesthetic and available in safety colors.
Manufactured in Australia under a patent (std patent: 2002301692, PR:8581, innovation patent : 2006100501
Pole holes 26.9mmOD, 33.7mm OD, and 42.7mm OD are available.
Pole holes running across or up & down the feet
A wide range of colors is available to choose from.
Your contact details can be embossed onto  the block
Meets AS4687-2007
Uv5 protected
Temporary Fence Clamps specifications.
Temporary Fence Clamps are designed to be used with our Temporary Fencing Plastic Feet @90mm centres x 4.2mm thick it complies with AS4687-2007.
Temporary Fence stabilizers / supports specifications.
Temporary Fence Stabilizers and supports is an important component of our Temporary Fencing System used in high wind areas.
Specifications
Pipe specifications
Weight
HDG Specifications
25NBx2.5mm thick
8kg
42-48 microns
Give us a call to find out our monthly promotions
N B S CLASS A TEMPORARY FENCE PANEL
NBS CLASS B CERTIFIED TEMPORARY FENCE PANEL