NBS Electro Forged Grating (Steel Grating)
We Beat and Lead the following standards
New Bridge Services is a leader in Import and Export of steel gratings, trench covers, and stair treads, steel ladders, stanchions.
Our head offices are located in Melbourne, Australia and manufacturing process done overseas, which is performed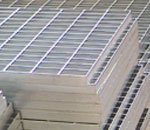 under the supervision of Australian qualified staff at state of the art manufacturing plant. Our manufacturing is executed on advanced steel grating automated press welder productions lines, as well as completes auxiliary processing equipment and testing facilities.
New Bridge Services supply both the standard stock panels in low carbon steel and hot dipped galvanized as well as customized fabricated panels in low carbon steel and hot dipped galvanized at a very competitive price.
Our Steel Grating and Handrails meet the following standards.
Steel Grating  Standard
| Panel size | Steel Grating Standard | Steel Standard | Galvanizing Standard |
| --- | --- | --- | --- |
| USA Standard | ANSI/NAAMM (MBG531) | ASTM (A36) | ASTM (A123) |
| U.K. Standard | BS4592 | BS4360 (43A) | BS729 |
| Australia Standard | AS1657 | AS3679 | AS1650 |
Today's high tech technology has ensured as well as rendered a consistent quality that meets the above standards with our computer controlled welding and pressing equipments. Our steel grating has been widely applied in power stations, chemical, and refinery, plants of steel, paper and cement, pharmacy, food processing, etc. The use of these products also have been made in the ship ladders, corridors, pump rooms, engine platforms, various bridges and over-passing, oil fields, car-washing & parking areas, fencing, sewage disposal, etc. Fabrication of custom drawings is been done at our in house fabrication shop giving you a cost effective advantage.
CLICK HERE to download the Steel Grating Brochure.
CLICK HEREto download the "Strength Testing of Forged Welded Steel Grating" Report.