We at New Bridge Services, design Fiber Glass Grating (FRP Grating) for use in highly corrosive environments, as Work safety experts recommend using fiberglass grating in highly corrosive environments. When corrosion protection and safety is highly concerned then Fiberglass Grating is the only choice since it is Superior to aluminium or steel in terms of durability. In addition, it is less contracted and less expanded than aluminium or steel. We achieve superior dimensional stability with fiberglass grating. Therefore, we manufacture and supply FRP gratings and FRP pultruded grating products. There are OrthoIso and Vinylester gratings
Product Description :
Operation terrace; off-shore oil rig; Inspection rack; Stair tread; Ground floor; Trench cover; Bridge sidewalk; foot bridge; Equipment safety fence; Stair landing; Scaffold; filling supporting; Decorating grid; Air grid, etc.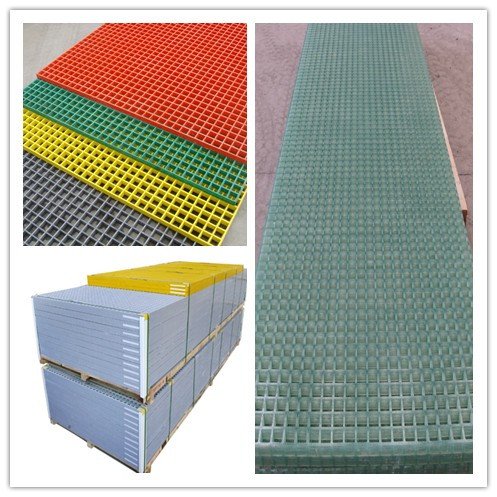 Details as follows:
Wastewater Treatment:
Cover of trench, Walkways, Drain, Large capacity vessel, Washing machine, Water channel, Ventilation valve Stair treads , Flooring Chemical Plant: Stair trends, Wooden platform, Cover of concrete pool, Replacement of metal grating.
Textile Plant:
Replacing metal grating, wooden platform, and cover of concrete pool; Flooring around bleaching, dying area, Floor around pumps and valves area. Power Plant: Wastewater pool etc.
Metal finishing:
Acid washing area, replacing wooden floor at the surrounding of machines
Seafood Processing: Oily surface contaminated area, Marine.
Transportation: Platform, Ships, contaminated area, Stair treads.
Beverage Plant: Stair treads, Replacing stainless steel, Floor grating.
Pulp and Paper Works: Stair treads and platform, Walkways, Walkways of wet area
Meat Processing Works:
Floor of easily corrosion area, Ladder, Platform of oily floor and stair treads.
Performance:
Corrosion-resistance, Fire retardant, Light in weight and high in strength, Designable, impact resistance, non-magnetic, Aging-resistance, Safe and anti-skid, many colours, Insulation and non-conductive, stable size, long service life, attractive and maintenance freedom, anti-fatigue, non-sparking.
We, The New Bridge Services are one of the leading manufacturers who supplies FRP gratings and FRP pultruded grating products. There are OrthoIso and Vinylester gratings
CLICK HERE to download the FRP Grating Brochure.